Vegetables fresh from the land, right into your own basket
The Lekkernassûh fresh market operates at several locations in The Hague. At the fresh market we sell vegetable packets, seasonal fruits and vegetables, eggs, cheese, and we also sell products from local entrepreneurs. All our products are sustainably grown, pesticide-free, local, in season, and we use as little packaging material as possible. We hope that makes you happy! Want to know how to get this delicious veggie package? Read further below.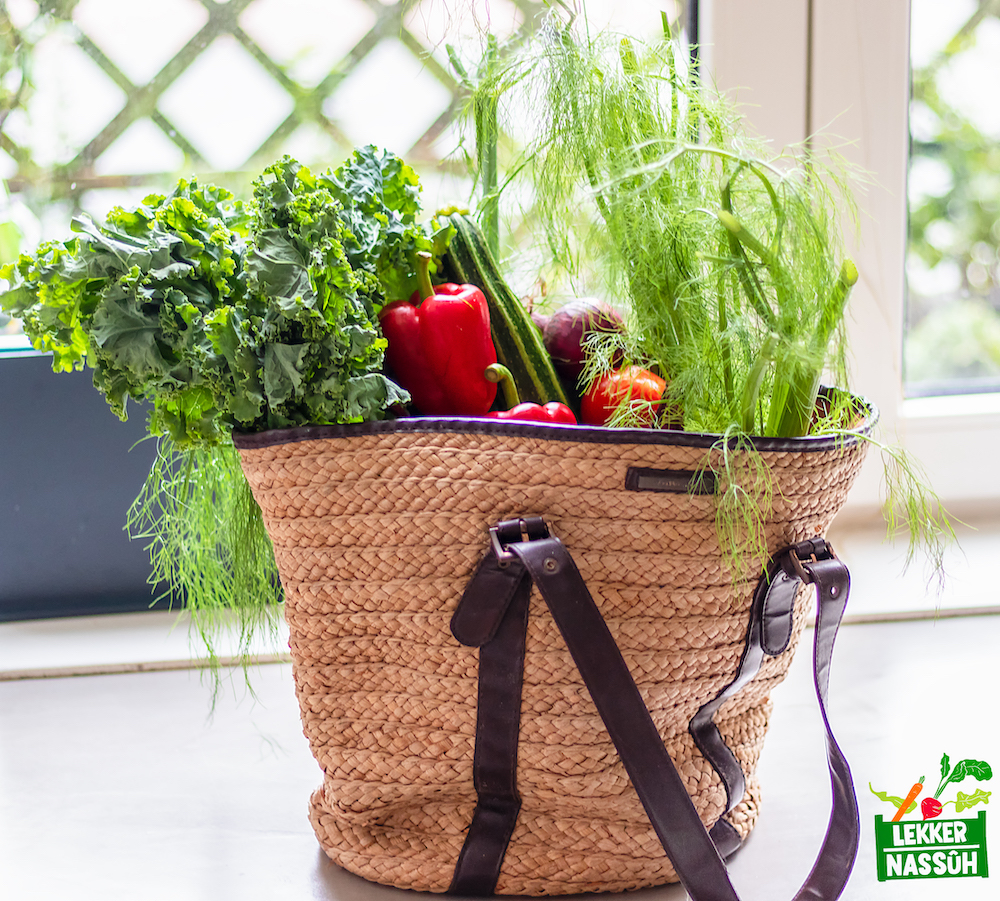 Would you like a delicious vegetable package?
What do you get?
Your vegetable package contains at least 7 vegetables. All fresh, local, in season, and sustainably produced.
Depending on the season, you may also find fruits or herbs in your package.
A vegetable package always costs €12.50 or 1.25 Timebank hours.
Don't forget to bring your own shopping bag!
How does it work?
Subscribe to Lekkernassûh and choose a market or pick-up point near you.
We need to know if you want to pick up a package on the upcoming Wednesday market before 8 PM on Sunday evening. If your account is active, we will purchase a package for you and count on you to pick it up and pay for it.
Each week you can decide whether you want to pick up a vegetable package or not. You indicate this via your personal profile page.
Register
Do you want to join us? Then sign up here!
There is no registration fee, and you can choose which week's you want or do not want to receive a package.
If you are going on vacation or do not want or cannot pick up a package? No problem at all! Just put your account on pause for that week before 8 PM Sunday.
We'd love to see you at one of our markets!
Purchases
Curious how the vegetable pack is created? Our purchasing team selects delicious vegetables for your vegetable pack every week. We have two regular suppliers, Hoeve Biesland in Delfgauw and Landzicht Biologisch in Strijen. We buy a large portion of our vegetables from them. They are the link between us and the regional network. They transport for themselves and for other farmers, which keeps the CO2 footprint caused by transport as low as possible.
Suppliers
We work with suppliers from South Holland, Zeeland Gelderland, Flevoland, Brabant and Limburg. We also sell products from local entrepreneurs, such as bread, honey, and much more. This selection changes per market and per moment. All these beautiful products can be found at our fresh markets. Want to know more about our suppliers and local sellers at the market? Click on the button below.
Locations
All Lekkernassûh locations are run by volunteers. Without them, there would be no market. There are currently four locations and several pick-up points. We try to give everyone the opportunity to participate. If interested, you can help at one of our markets, or start your own location, or a pick-up point. Want to know more about this? Click on the buttons below.
©️ Photos by finefocus.nl